Bijur Delimon CXL2 Injectors & Manifolds
Premium Single Line Grease Systems
---
GENERAL
Designed for use in single line high pressure automatic grease systems, CXL2 Injectors deliver precise volumes of lubricant at predetermined intervals. Injectors are mounted in manifolds in close proximity to the points of lubrication. A wide selection of discharge rates, combined with a corrosion resistant finish, make this product ideally suited for mobile, wind and a broad selection of general industrial applications.
OPERATION
Lubricant introduced under pressure at the inlet moves the injector piston forward. The piston displaces a pre charge of lubricant from the discharge chamber through the outlet check valve and through the feed line. When system pressure is relieved, the piston returns to its rest position, transferring lubricant stored in the measuring chamber to the discharge chamber. The injector is then ready for the next discharge cycle.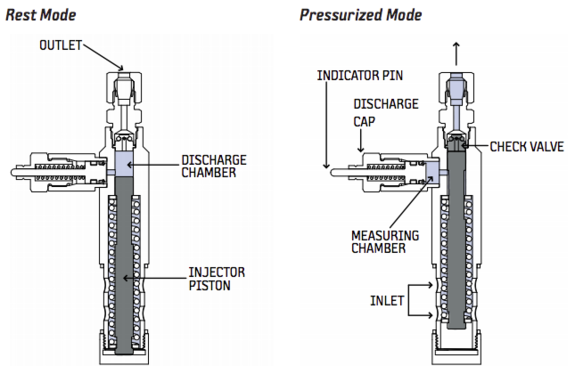 FEATURES
Precise, dependable operation, no special tools required
Visual indicator pin for inspection and troubleshooting
Positive displacement output
Easy to understand, install and service
Injectors mount in any orientation
Single supply line means lower installation cost
Corrosion resistant for harsh environments
---
TECHNICAL DATA
Discharge/Cycle
0.05-0.40cc (0.003-0.024 cu. in.)
Lubricant Discharge Adjustment
Discharge caps: 0.05cc – 0.40cc in 0.05cc increments available
Grease
NLGI grade 000-2
Minimum Operating Pressure
1200 psi (82 bar)
Maximum Operating Pressure
3500 psi (248 bar)
Minimum Vent
Recharge/Reset @ 600 psi (41 bar) or higher
Surface Protection
Zinc Nickel, 1000-hour salt spray
Material
Carbon steel with surface protection
Operating Temperature Range
-13°F to 350°F (-25°C to 176°C)
Manifold Inlet Ports
1/4" NPT(F) or 1/4"BSPP(F)
Injector Outlet
Tube Connection Option
Female Thread Option
3/16" O.D. tube connection (standard)
1/8" NPT female connection
 
1/8" BSPP female connection
Seals
Viton®
---
INSTALLATION NOTE
WARNING: Whenever inserting the piston and spring assembly into the injector body, the exposed end of the piston must be carefully started in the main bore and pushed in completely. If the assembly is forced, the piston and/or bore will be amaged and not function correctly.