Turcite Application
Do not be fooled by simplistic internet application instructions. Every case and machine may have a slightly different requirement. The instructions we offer are generic and will work on any linear bearing material such as Turcite®, Rulon as well as competitor knock offs. We can apply your linear bearing material at our facility with the assurance of a perfect bond using our Slydrite process. We can minimize fitting of the parts in our customer's plant by machining and scraping. WE HAVE 20 YEARS EXPERIENCE WORKING WITH TURCITE® B AND LINEAR BEARING MATERIALS LET US APPLY YOURS.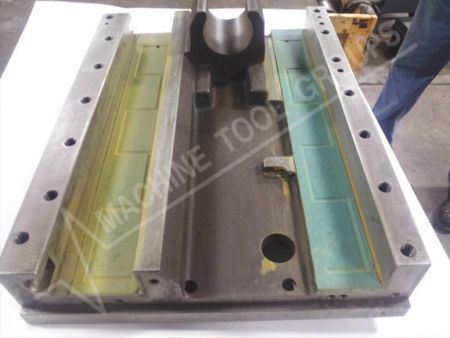 REQUIRED MATERIALS
Waylock® Adhesive
Clean mixing board if applicable
Wayprep® Industrial Degreaser and Cleaner
Blast-Booth or 60 Grit Emery Cloth or Emery
Application Spatula
Clean Lint-Free Rags
99% Isopropyl Alcohol
Clamps or Weights
Wax Paper
A) Pre-clean heavy coolant and chip build up on machine components. Scrape off heavy grease and allow cleaner to penetrate.
B) Clean the bond surface with Wayprep® Industrial Degreaser and Cleaner, This product is designed to cut grease and oil and leave very little residue, and is environmentally safe to use. White lint free rags should be used, not shop towels, and should be wiped until rag stays clean.
C) Surface finish should not be less than 40 RA per manufacturers specifications.
D) The metal surface to be bonded is then blasted with 36 grit Aluminum Oxide @ 100psi of air. Be sure the blast booth is a clean booth and the surface being blasted is free of grease and oil. 60 grit emery paper can be used in the field where blasting is not possible. All shinny surfaces (known as smeared finishes) must be dulled off even between mill grooves.
E) Prepare the Waylock® Adhesive by mixing each container individually first using separate mixing sticks. Then on a clean mixing board mix 1 to 1 by weight or volume. There are also Waylock® Adhesive applicator guns and tubes with self mixing nozzles available. The pot life of the Waylock® Adhesive after being mixed is about 40 minutes for one quart batch depending on temperature and humidity.
F) Make a final wipe of the surface to be bonded as well as the etched side of the Turcite® with 99% Isopropyl alcohol and a white lint free rag. Waylock® Adhesive should then be applied using the spatula provided to assure the proper adhesive thickness.
G) Days of high Humidity can create and cause bond line failure. The use of heat lamps close to the bond area can prevent this.
H) Place weights or clamping device to create 5 to 15 psi of clamp pressure. Be sure to use wax paper between the Turcite® and the weights or clamps.
(Length x Width x psi)=required lbs.
I) After a minimum of 6 hours cure temperature and humidity pending, Clean out all adhesive that over flowed and trim off excess material.
J) Turcite® applied with Waylock® can be machined in 6 hours. Full cure is in 24 hours. Oil groove depth should be at least 50% of the thickness of the Turcite® used. Carbide end mills are required. Oil groove patterns are available on our website.
Turcite®-B, Slydway®, Waylock®, Wayprep® Industrial Degreaser and Cleaner, Ezite®  are registered trademarks for  
Trelleborg Sealing Solutions (Formerly Busak+Shamban Polymer Technologies Group, Inc)