Bijur Delimon FL-1 Injector
Oil & Grease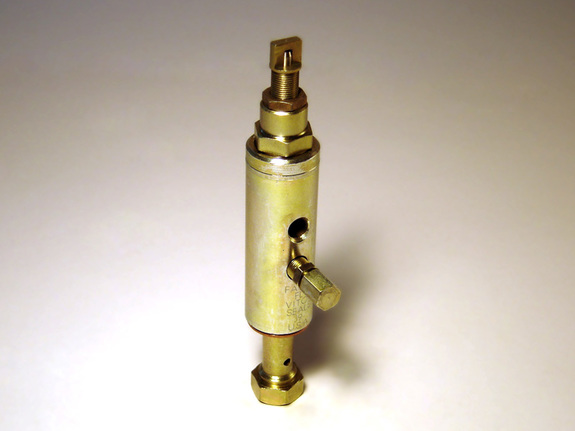 ---
GENERAL
FL1 injectors are positive displacement grease dispensing valves. They can be used in lubrication circuits with our FL-32, FL-33 and FL-11 series injectors. Higher injector outputs make these units well suited to satisfy lubrication needs of medium and large machines. In addition, higher output pressures make these injectors ideally suited for equipment operating in harsh environments. Recommend NLGI grade 2 grease or lighter.
FEATURES
Viton O-rings standard to protect against high heat and synthetic lubricants.
Form, fit and functional interchangeable with major competitive brand.
All injectors are shipped with vinyl cover caps standard.
Adjustable grease output.
Visual operating indicator pin.
Includes feed line fill fitting.
---
TECHNICAL DATA
Minimum Operating Pressure
1850 psi (128 bar)
Maximum Operating Pressure
3500 psi (241 bar)
Maximum Vent/ Relief Pressure
600 psi (41 bar)
Lubricant Output
0.13-1.60cc (0.008-0.10 cu. in.)
Surface Protection
Zinc with yellow chromate
Mounting
Any position
Lubricants
Up to NLGI grade 2
Seals
Viton O-rings
Inlet Thread
3/8" NPT
Outlet Thread*
1/8" NPT
Temperature
350°F (176°C) max., -10°F (-23°C) min.
* Fittings used must not be over tightened. A potential interference with internal parts could occur.
---
HOW TO ORDER
Name
# of Injectors
Part #
Carbon Steel
Stainless Steel (316)
Manifold Only
FL-1 Injector
1
FL1-1
FL11-SS
13281
2
FL1-2
FL12-SS
13282
3
FL1-3
FL13-SS
13283
4
FL1-4
FL14-SS
13284
5
FL1-5
FL15-SS
13285
6
FL1-6
FL16-SS
13286
1 (Direct mount)
13844
---
---
1 (Replacement injector)
13843
13843-SS
---
When ordering, specify by name, description and part number, e.g. FL-1 Injector, 4-way injector, Carbon Steel, part #FL1-4.
---
SERVICE PARTS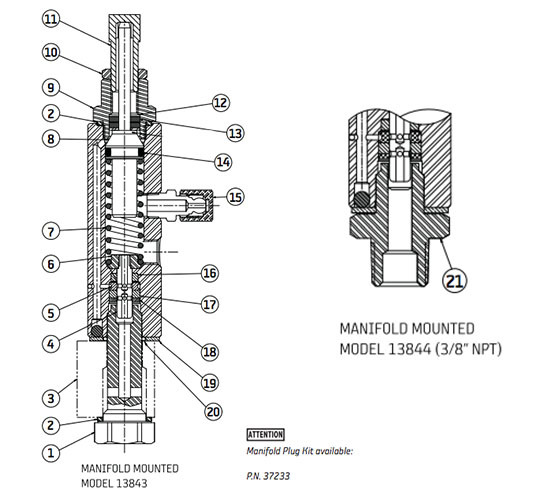 Item
Description
Part #
1-20
FL-1 repair kit
13864
Adapter bolt (1)2
---
Brass washer (2)
---
Poppet (4)
---
Spacer (5)
---
Flange (6)
---
Spring (7)
---
Piston assembly (8)
---
Steel washer (12)
---
Packing, viton (13)
---
O-ring, viton (14)
---
Poppet seal, viton (16)
---
Packing, viton (17)
---
Steel washer (18)
---
Washer (19)
---
O-ring (20)
---
13-18
FL-1 soft parts kit
13862
Packing, viton (13)
 
O-ring, viton (14)
 
Poppet seal, viton (16)
 
Steel washer (18)
 
3
Manifold
See How to Order
91
Housing
HSG-13735A
10
 Jam nut
NUT-13738A
11
Adjusting screw
SCR-13739A
15
Bleed fitting assembly
FIT-13859A
212
Adapter (3/8" NPT)
ADA-13841A
1 Torque to 25-30 ft•lb
2 Torque to 45-50 ft•lb