Bijur Delimon Heavy Duty Electric Barrel Pump
Grease & Fluid Grease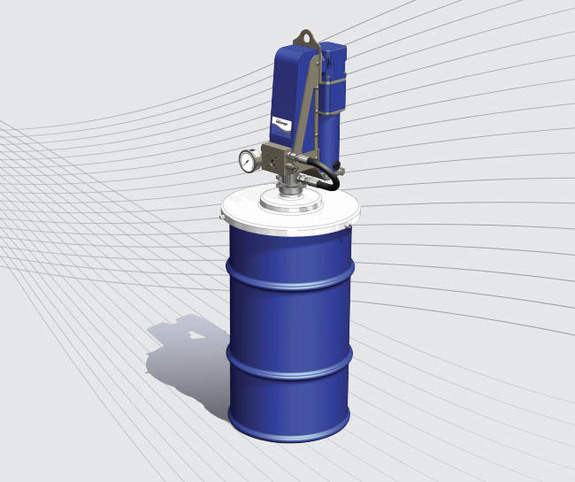 ---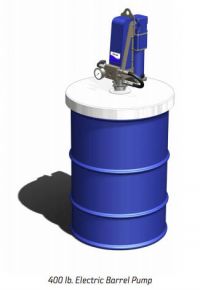 FEATURES & BENEFITS
Available for progressive, dualine, and/or injector lubrication systems.
Rugged construction for outdoor use and rough environments.
Eliminate expensive air consumption.
Longer life expectancy – last barrel pump you will have to buy!
Fits standard 120lb / 50kg and 400lb / 185kg grease drums.
Extremely low noise levels – work right next to it.
Adding a Bijur Delimon lubrication system increases equipment life by decreasing wear on vital components. Automatic lubrication systems safely and continuously supply lubricant while your machine is running.
---
ELECTRIC BARREL PUMP
Bijur Delimon's AC or DC Electric Barrel Pumps will replace the air or hydraulic operated pumps now used for lubrication system on mobile or stationary equipment. Installation is cleaner – no air or hydraulic lines to install/leak. Simply wire into the machine's power supply. Pressure rated to 300 bar (4350psi). Will fit original refinery 120 and 400lb drums (50kg & 185kg). Drum cover and follower plates also available.
Bijur Delimon's new state of the art Electric Barrel Pump's versatility is unmatched in the market today. As seen below the new EBP can operate all styles of lubrication systems and metering from progressive, injector, direct, and even dualine. Versions are also available for all standard drum sizes. Now you can standardize on one pump design throughout your plant!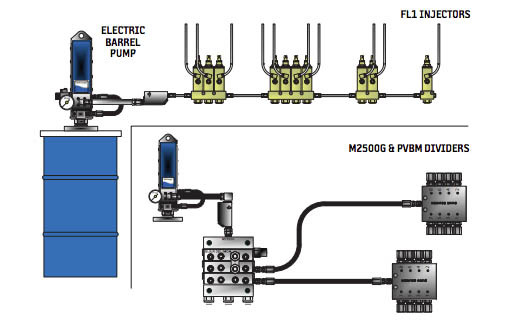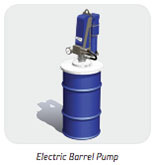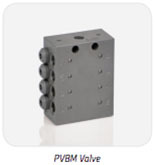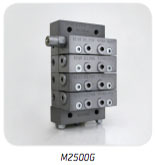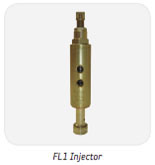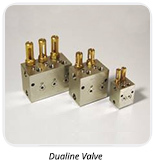 ---
OPERATION
The pump end (bottom) consists of a hardened steel bushing, through which the piston runs. As the piston strokes down, grease is pushed past the check valve ball and out through the extruded discharge holes in the pump stem. As the piston strokes up, the check valve prevents drawback, and a vacuum is created inside the bushing. When the piston uncovers the suction holes in the bushing, another charge of grease is drawn in through the suction ports on the bottom of the stem and into the bushing. The cycle then repeats.
---
TECHNICAL DATA
Standard Tube Lengths/Fits Drum Size 1
120 lb. (50 kg), 400 lb. (185 kg)
Voltages
24 VDC
115/230 VAC (50/60 Hz) Single Phase
Amp Draw
24VDC 2
15 Amp draw @ 3500psi 20°C (68°F) with NLGI #2
115VAC 3
4 Amp draw @ 3500psi 20°C (68°F) with NLGI #2
220VAC 4
2 Amp draw @ 3500psi 20°C (68°F) with NLGI #2
Lubrication Flow 5
150cc/minute @ 140 bar, +20°C (9 cu.in. @ 2030 psi, +68°F)
Pump Pressure
300 bar max/240 bar recommended (4350psi / 3480 psi)
Systems 6
Progressive
Pressure Relief Valve Included
Injector
Vent Valve & Pressure Relief Valve Included
Relief Valve Pressure
240 bar / 3500 psi
Vent Valve Voltages
24 VDC
115/230 VAC (50/60 Hz) Single Phase
Operating Temperature 7
-25°C to +60°C (-13°F to +140°F)
Pressure Gauge
350 bar Included (5000 psi)
Lube Outlet Port
1/2" NPSF (F)
Lubricants 8
NLGI #000 to #2
Rating
IP66
Noise Level 9
75dB
1 Bung Bushing F360002 is included with pumps.
2 16 Amp draw spike. Recommend 40A fuse max.
3 5 Amp draw spike. Recommend 7A fuse max.
4 2.5 Amp draw spike. Recommend 4A fuse max.
5 Flow rate is for 60 Hz motors. 60 Hz motor can operate on 50 Hz but pump flow is reduced.
6 Suitable for Dualine system when paired with a hydraulic or electric reversing valve.
7 Lower temperatures may be possible with suitable grease and/or heated reservoir/piping.
8 EBP will also work pumping oils.
9 Noise level measured at 3' (1 m) from the pump.
---
HOW TO ORDER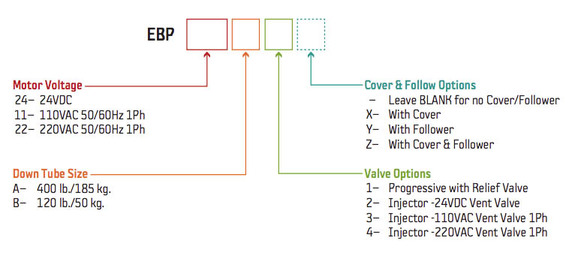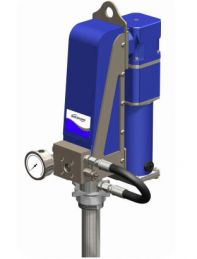 When ordering, specify by name, description and part number, e.g. Electric Barrel Pump, 24 VDC,
120 lb Down Tube, Progressive with Cover & Follower, Part #EBP-24B1Z.
Refer to the following documents: Catalog #33136: Industrial Lubrication Products
---
ACCESSORIES
Photo
Description
Part #
Hose Assemblies
345 bar/5000 psi WP
1/2"I.D. Hose X
3/4-16 SAE female ends
72"-IN LG
200549
144"-IN LG
HOS13907B
STR Male Adapters for hoses
(Additional sizes in Catalog 151)
3/4-16 x 1/2NPT
3/4-16 x 3/8NPT
3/4-16 x 1/4NPT
U43188
U43168
U43148
Drum Covers

* Order with Adapter F360133

120 LB
F418017*
400 LB
F418026*
Follower Plates
120 LB
F964
400 LB
F966
Level Switch Kits
120LB NEMA 1
LC10243
400 LB NEMA 1
LC11036
120 LB NEMA 4X
LC13689C
400 LB NEMA 4X
LC13689C-1
Empty Drum Containers
120 LB
37153
400 LB
36490
Drum Blanket Heaters
120 LB
37506
400 LB
55286
Pump Hoist
F391022
Grease Handles with Meter
1/4"NPTF
F1177
Pump Tie Down Kits
120 LB
F2440
400 LB
F2450
Bung Seal Kit
F2449