Bijur Delimon VXLO Injector
Indirect Feed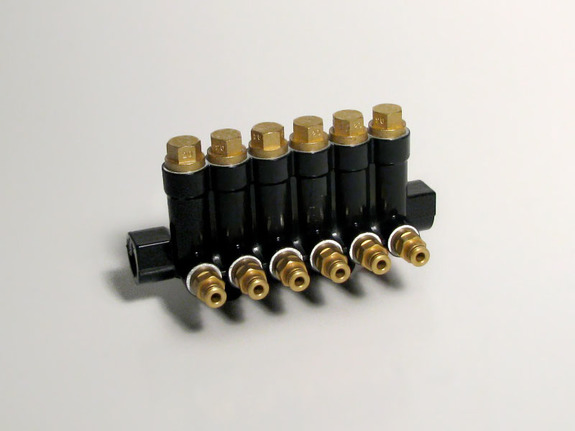 GENERAL
The VXLO Injector meters and displaces positive volumes of lubricant to individual lubrication points. Each injector in a system is independent of each other. The volume displaced by each injector is controlled by the interchangeable metering screws. These injectors are indirect feed (post fire injectors), discharging lubricant to the lubrication point via spring force when mainline pressure is relieved. The total volume of lubricant fed to each point is dependent on the metering screw rate and the cycle frequency of the lubricator.
OPERATION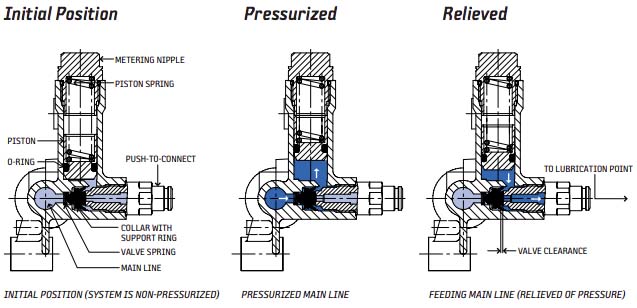 Once mainline pressure begins to increase, the valve within each injector seals off the lubricant path to the discharge outlet. Lubricant is thereby stored beneath the discharge piston. As soon as mainline pressure is relieved, i.e. when the lubricator stops and the dump valve opens, the spring loaded piston delivers lubricant through the outlet to the lubrication point.
FEATURES
Wide range of discharge rates
Quick connect outlet fittings for faster installations
Indirect (post fire) injectors ensure delivery of grease to loaded bushings and pins
Corrosion resistant finish
---
TECHNICAL DATA
Grease
NLGI grade 000-0
Discharge
0.1cc, 0.2cc, 0.4cc (0.006 cu. in., 0.012 cu. in., 0.024 cu. in.)
0.6cc, 0.8cc, 1.0cc (0.036 cu. in., 0.048 cu.in., 0.061 cu.in.)
Minimum Pressure
290 psi (20 bar)
Maximum Pressure
725 psi (50 bar)
Outlet Number
2, 4 or 6
---
HOW TO ORDER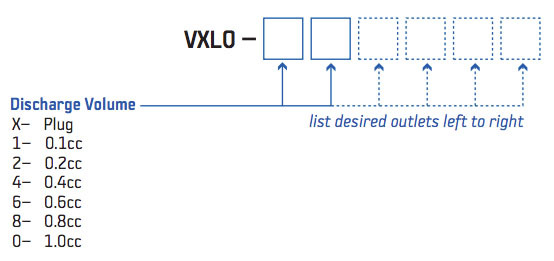 VXLO Injectors use a smart part numbering system that allows you to tailor the injector to meet your needs. First, choose the discharge volume for each outlet. Then, put the numbers into the corresponding squares in the easy-to-use grid. 2, 4 or 6 outlet injectors are available.
Example: To order a four outlet, VXLO Injector, where the discharge volumes are 0.1cc, 0.1cc, 0.2cc and 0.4cc, you would use Part #VXLO-1124.
---
ACCESSORIES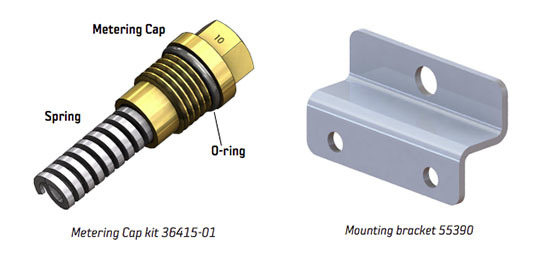 Description
Cap Stamped
with Code #
Part #
Meter Cap Kits
(Includes meter cap, spring and o-ring)
0.1 cc
10
36415-01
0.2 cc
20
36415-02
0.4 cc
40
36415-04
0.6 cc
60
36415-06
Connector
53560-1
PTC outlet fitting with O-ring
36444
PTC Plug for injector outlets
AR2006
Manifold inlet plug
53558 1
O-ring
22100-13
Washer
25589-23 2
Manifold inlet adapter M16X1.5 x 1/8NPTF
42444-5
Mounting bracket 80mm X 43mm x 25mm
55390
1Order with Washer, part #25589-23.
2 Order with Manifold inlet plug, part #53558.