Turcite® B
Machine Tool Specialty Components Group will Meet or Beat
Anyone's Price on Turcite® B Slydway® Material!
Call today for your quotation — 1-888-887-2483
---
What is Turcite®? Turcite® is PTFE (polytetrafluoroethylene) resins with added fillers such as bronze, that are extruded into solid billets as opposed to compression molding. Billets are then skived to a nominal thickness in 24" wide rolls, with lengths varying depending on thickness. One side or both sides are etched depending on application to accept the adhesive.
Turcite® B is a polytetrafluoroethylene (PTFE) based bearing material with low friction for machine tool industry linear bearing applications.
Turcite® B comes in 12" and 24" wide rolls. Or we will custom cut to your specifications. There is no minimum order.
Testing has shown that PTFE based compounds are resistant to virtually all media, cutting fluids and slideway oils. Additionally, these compounds feature outstanding wear resistance and friction characteristics.
Head-to-head material testing has shown that Turcite® B outperforms key competitive materials for low friction. Turcite® B was developed to meet the needs of machine tool manufacturers looking to improve machine tool efficiencies through low friction material technology and reduce stick-slip effect in machine transitions while still maintaining positioning accuracy and vibration damping.
Features and Benefits of Turcite® B
• Low friction without stick slip for positional accuracy at different velocities, especially low speeds
• Low coefficient of friction in intermittent lack of lubrications
• Chemical resistant to a broad range of lubricants for extended product life
• Reduces machine tool vibration through damping characteristics
• Minimal abrasion of hardware, preventing damage to counter surfaces
• High wear resistance for extended product life
• Thicknesses to meet design requirements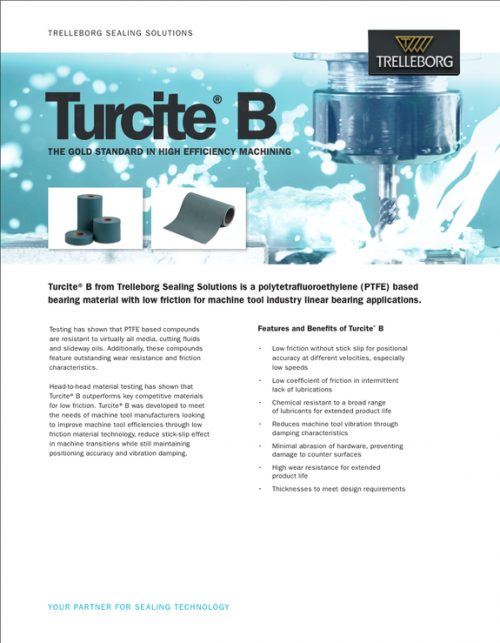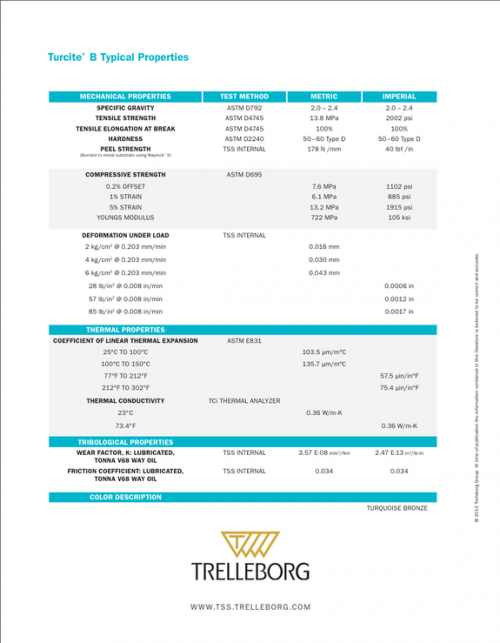 ---
Make no mistake! 
Machine Tool Specialty Components Group supplies the original Turcite® manufactured by Trelleborg Sealing Solutions.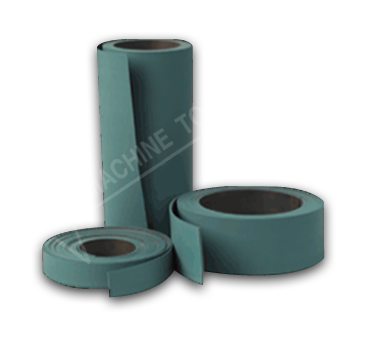 For over 30 years Busak Shamban (now known as Trelleborg Sealing Solutions) has manufactured high quality thermoplastic bearings and friction-reducing materials that are specified by OEMs world-wide.
Turcite® B Slydway® increases accuracy, reduces damage caused by mechanical breakdowns and lubrication failures, extends the life of mechanical components, saves energy, and improves stick slip performance.
The Turcite® B Slydway® system includes the following specially formulated products used in the SlydriteSM process of preparation and application.
Waylock II Adhesive- Specifically formulated for bonding Turcite® B to metal surfaces.
Waylock EZ Adhesive- The same adhesive as Waylock II Adhesive but in an easy-to-use cartridge system designed for use with our applicator guns.
Wayprep® Industrial Degreaser and Cleaner - An environmentally friendly cleaner designed to leave no residue.
When the entire SlydriteSM process is used, optimum results are achieved.